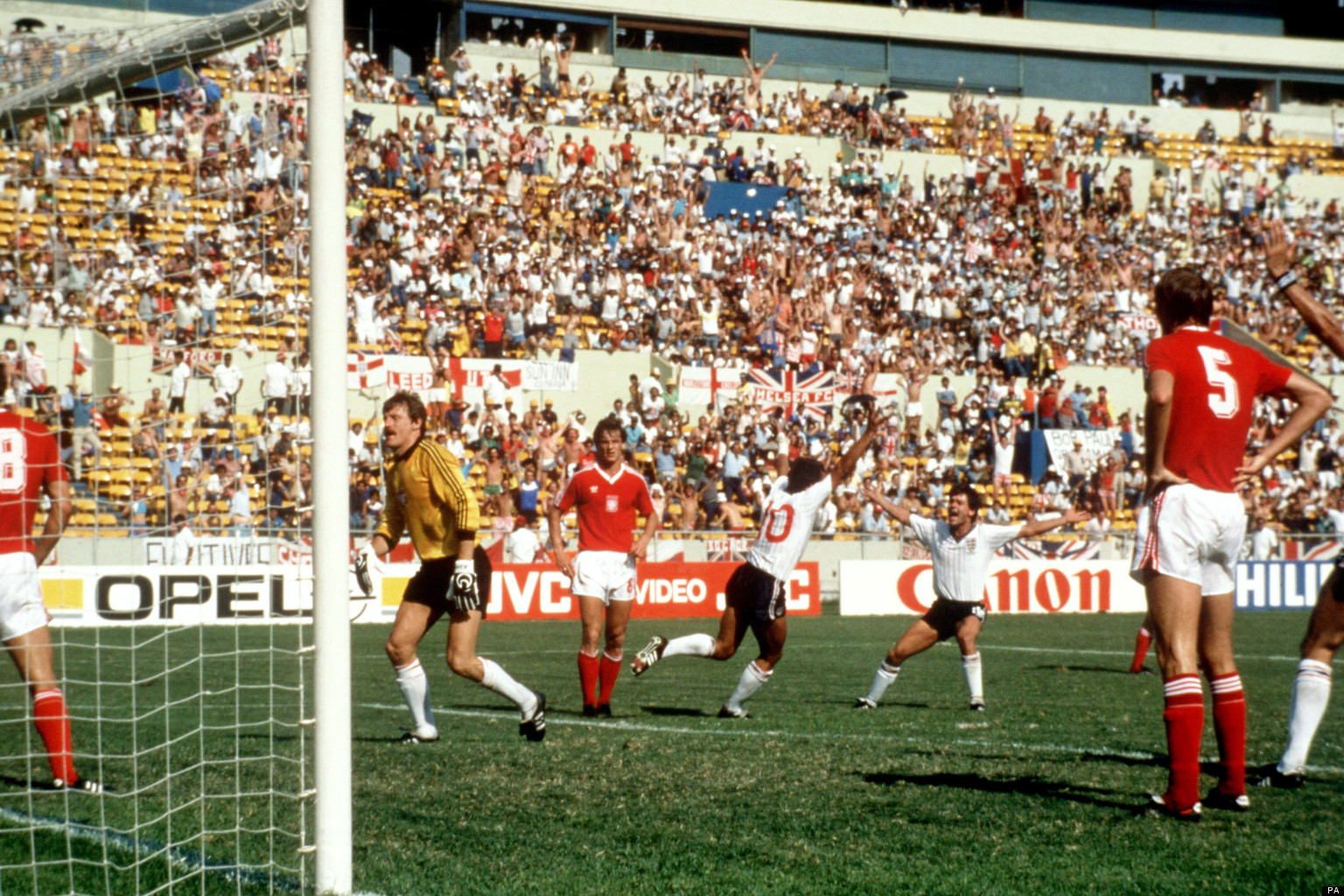 First viewed : 31 May 1986
While not being terribly enamoured of the winners, I think I'd have to nominate this as my favourite of all the World Cups I've seen, the main reason being that it coincided with the end of my university days, a time remembered with great fondness. Many of the games were watched in friends' houses which considerably enhanced the experience.
The tournament was originally handed to Colombia but by 1982 it was clear they weren't ready and it went to Mexico instead. After the Germany-Austria stitch-up in 1982, the final games in the group stages had to be played simultaneously and after the first group stage, every match was played on a knockout basis.
England qualified fairly comfortably and got a pretty easy group but went into the tournament with a problem. Captain Bryan Robson injured his shoulder in a warm-up game. My friend Sean put it succintly "every time he falls over his arm comes off". England's first game was against Portugal which presented me with a dilemma as my first exam was the next day. Eventually I made a deal with myself that I'd just watch the first half then go to bed. Mercifully I missed the worst of it. An inhibited Robson had to come off just after Portugal scored the only goal of the game and England were in trouble .
The discussion of England's difficulties before someone else's game gave rise to one of my favourite punditry moments. Trevor Francis hadn't been selected for the squad but was on a satellite link from Spain so he could be part of ITV's World Cup team. Brian Moore asked the panel what could be done to improve England's chances and Kevin Keegan took the opportunity to laud his ex-team mate at Newcastle , Peter Beardsley. He went into a long promotion of Beardsley's abilities then realised they hadn't brought Francis in for a while and suddenly said "I don't know what you think Trev ?"
FRANCIS : ( taken by surprise ) Wha-oh. Are you asking me Kev ?
BRIAN MOORE : ( cutting in ) Very briefly Trevor, the teams are coming out !
FRANCIS : ( totally deadpan ) Well very briefly Brian , I've never seen Beardsley play
( Sounds of corpsing in the studio as they cut to the start of the game )
I saw England's next game against the mighty Morocco in the Student Union with some mates. Things went to pieces after 42 minutes when Robson's arm duly fell out again and he'd hardly left the pitch before Ray Wilkins joined him in the dressing room for throwing the ball at the referee. England held on for a 0-0 draw to ever louder shouts of abuse from the student hordes.
That meant it was all or nothing against already-qualified Poland. Robson was forced to bring in the in-form Everton duo of Peter Reid and Trevor Steven and selected Beardsley instead of useless Mark Hateley, surely one of England's worst ever players. England duly saw off Poland 3-0 , a hat-trick turning Gary Lineker into a superstar. England then beat Paraguay by the same scoreline with Lineker scoring twice. I don't think I really need to say how the next game against Argentina panned out.
ITV definitely had the best team of pundits with Brian Clough regularly locking horns with the outspoken Mick Channon especially when the latter suggested that Germany deliberately lost their fixture against Denmark in order to play Morocco in the next round - "You'd better watch what you say young man !" Channon was also noted for his persistent mispronunciation of "Lineker " as "Lin-acre". Rather sadly, it turned out to be Channon's swansong as a pundit. He had just been given a free transfer by Portsmouth and , despite rumours that he was on his way to Spotland at one point, the World Cup proved to be the end of his connection with football as he built up a successful business as a racehorse trainer.
Denmark were something of a surprise package at the Finals. They came through their group winning all three games including a 6-1 demolition of a Uruguay team whose sole aim appeared to be the maiming of their opponents and former Liverpool target Michael Laudrup looked set to be a superstar. Unfortunately, they came a real cropper in the next game against Spain who exposed all their defensive frailties and thrashed them 5-1. I remember watching that one in someone's loft-bedroom and trying an onion bhaji for the first time.

Other memorable games were Pat Jennings's swansong for Northern Ireland against Brazil, Scotland failing to beat Uruguay despite their opponents picking up a red card in the first minute, Belgium coming good at the right time to beat the fancied Soviets 4-3 and France edging out Brazil on penalties after Zico had missed one during the game having just come on.

The last games were played after I'd left university and I watched the Argies beat the Germans in the Final back at home.